Many primary source items, including letters, cartoons, and artwork, have been digitized and are freely available online.
Lincoln Papers: Emancipation Proclamation This online exhibition of Library of Congress materials includes a timeline of Emancipation, drafts and letters pertaining to the Proclamation, and "The First Reading of the Emancipation Proclamation before the Cabinet" (1866), painted by F.B. Carpenter and engraved by A.H. Ritchie.
Emancipation Proclamation. Abraham Lincoln and Freedom, Liberty. Lewis Lehrman. Extensive research essays on Lincoln's personal beliefs and his Presidency, including timelines and artwork.
The Preliminary Emancipation Proclamation (issued September 22, 1862). New York State Library. Digitized copy of Lincoln's plan, with comments by abolitionist and Secretary of State William Seward. Includes essay by Harold Holzer, "The Second Declaration of Independence: Lincoln's Emancipation Proclamation."
"The Emancipation of the Negroes, January 1863." (1863). Drawn by Thomas Nast. Cartoon by famous 19th century artist, originally published in Harper's Weekly.
"Contrabands . . . Under the Proclamation." (1863). Drawn by Thomas Nast. Illustrates hoped-for reception of fugitive slaves by Union forces. Originally published in Harper's Weekly.
Juneteenth. Teresa Paloma Acosta. Handbook of Texas Online. Texas State Historical Association. Describes this anniversary of the delayed announcement of freedom to Texas slaves.
Beyond Face Value: Depictions of Slavery in Confederate Currency (Louisiana State University) - digital image gallery of images printed on notes issued by southern governments, businesses, and railroads showing African-Americans working on plantations. Note variations between styles used before and after the Civil War.
Resolution Proposing Amendment XIII to U.S. Constitution (American Treasures of the Library of Congress) - digital image of engrossed copy of language adopted by Congress on 31 January 1865, including signatures of Senators and Representatives voting for its passage and that of Abraham Lincoln.
The Abolitionists (PBS American Experience)
The PBS documentary, The Abolitionists, introduce the myriad of Americans, black and white, North and South, who challenged the accepted practices of slavery.
The Emancipation Proclamation
More than one hundred and fifty years ago, the festering sores of American freedom caused by slavery (euphemistically referred to as the South's "peculiar institution") became a sepsis which threatened its existence. The political, social, and economic conflict became armed conflict in the Civil War between the nation and the states which claimed the right to secede from the Union. About 17 months after Confederate (secessionist) and Union forces met in battle, President Abraham Lincoln announced his intention to emancipate slaves in states that continued in rebellion.
View here the preliminary, handwritten draft of the Emancipation Proclamation (22 Sept. 1862), with edits.
His Emancipation Proclamation was issued on 1 January 1863 (a print transcription of the Proclamation is available at the linked National Archives and Records Administration site.
"When you are dead and in Heaven, in a thousand years that action of yours will make the Angels sing your praises."
-- Hannah Johnson, mother of a Northern Black soldier, writing to President Abraham Lincoln about the Emancipation Proclamation, July 31, 1863. National Archives and Records Administration. http://www.archives.gov/exhibits/american_originals_iv/sections/nonjavatext_emancipation.html
Although Missouri, Kentucky, Maryland, Deleware, and Washington, D.C. were slave states, they did not secede. Virgnina split into West Virginia (which stayed in the Union) and Virginia (which seceded). As shown in the map below, the Emancipation Proclamation was target to areas not controlled by Union forces and continuing in armed rebellion.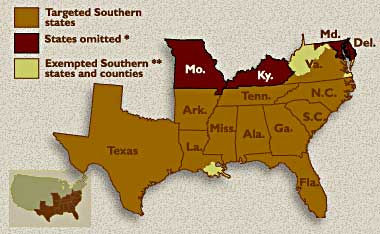 Map from "34a. Emancipation Proclamation" in USHistory.org. http://www.ushistory.org/us/34a.asp
Visualizing Emancipation (University of Richmond) - interactive site mapping collapse of southern slavery, mapping the interactions between federal policies, armies in the field, and the actions of enslaved men and women on countless farms and city blocks; includes teaching resources.
Lincoln's Emancipation Proclamation
Reference Librarian & Guide to Information Jungle
Barbara Hampton, J.D., M.L.S.
Ask the Reference Librarian
Ask the Sacred Heart Reference Librarians your questions about the Emancipation Proclamation and the end of slavery in the United States. Answers will be posted on the library's LibAnswers page and can be e-mailed to you.
Abracadabra! To find the resources you want, use the "magic words" (the official Subject terms used in the library catalogue and to describe articles and books in our databases). Information science professionals have agreed on certain key phrases to describe the subjects of library materials. Use these terms in a subject search. If you'd like help selecting the best words or phrases, as your reference librarian for assistance. The Sacred Heart University libraries use the system developed by the Library of Congress for multi-disciplinary research libraries. Some important subject headings for your research include:
Slave insurrectionn

United States. President (1861-1865 : Lincoln). Emancipation Proclamation

Slaves' writings, American

Slavery — Moral And Ethical Aspects