More than one hundred and fifty years ago, the festering sores of American freedom caused by slavery (euphemistically referred to as the South's "peculiar institution") became a sepsis which threatened its existence. The political, social, and economic conflict became armed conflict in the Civil War between the nation and the states which claimed the right to secede from the Union. About 17 months after Confederate (secessionist) and Union forces met in battle, President Abraham Lincoln announced his intention to emancipate slaves in states that continued in rebellion.
View here the preliminary, handwritten draft of the Emancipation Proclamation (22 Sept. 1862), with edits.
His Emancipation Proclamation was issued on 1 January 1863 (a print transcription of the Proclamation is available at the linked National Archives and Records Administration site.
"When you are dead and in Heaven, in a thousand years that action of yours will make the Angels sing your praises."
-- Hannah Johnson, mother of a Northern Black soldier, writing to President Abraham Lincoln about the Emancipation Proclamation, July 31, 1863. National Archives and Records Administration. http://www.archives.gov/exhibits/american_originals_iv/sections/nonjavatext_emancipation.html
Although Missouri, Kentucky, Maryland, Deleware, and Washington, D.C. were slave states, they did not secede. Virgnina split into West Virginia (which stayed in the Union) and Virginia (which seceded). As shown in the map below, the Emancipation Proclamation was target to areas not controlled by Union forces and continuing in armed rebellion.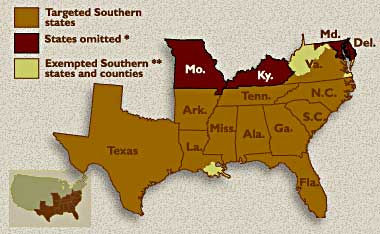 Map from "34a. Emancipation Proclamation" in USHistory.org. http://www.ushistory.org/us/34a.asp
Visualizing Emancipation (University of Richmond) - interactive site mapping collapse of southern slavery, mapping the interactions between federal policies, armies in the field, and the actions of enslaved men and women on countless farms and city blocks; includes teaching resources.